The more you use your WordPress website the more you will get used to the functionality and look of it. Once you are familiar with the look, you will start to notice when other sites are using a similar theme to you, and have functions that you would like on your site.
Many websites on the web use WordPress, so when you suspect someone is using the same theme as you and you want to know what they are using to achieve a certain functionality, you may ask yourself how can I do this? Luckily its fairly easy and can be done with a simple search.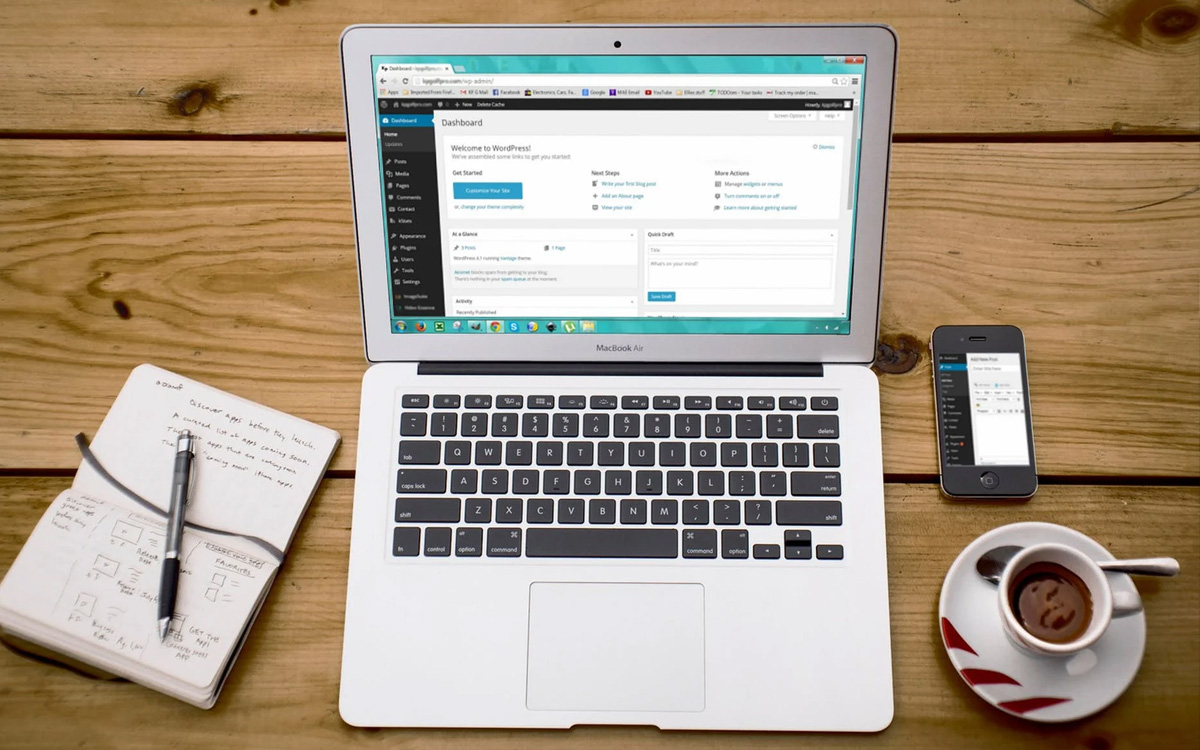 On the web, there are a variety of sites that you can use that will scan your chosen website and detect any plugins or themes that are being used on it. Once discovered, you can then use this information to see if it's possible for you to replicate it on your own WordPress site.
In this article, we have put a list of five free WordPress plugin detector sites that you can use to discover what plugins a site is using. It's worth bearing in mind that some sites will protect this information so it's not always 100% that you will get the information that you are after.
What Is A WordPress Theme and Plugin?
WordPress Theme
In simple terms, a WordPress theme is a tool that has been created by WordPress professionals. It is designed to make creating your website that bit easier. Instead of hardcoding your website, you purchase and install a theme.
After installing a theme, you will be able to adapt the appearance, layouts and colours. It includes pretty much all the design elements with very limited knowledge of code. Every theme is different meaning dependant on what theme you choose, will depend on what feature you are able to use.
With over 75 million sites on the web using WordPress, almost all of them will be using a theme in some way.
WordPress Plugin
WordPress plugins are used on top of your theme. They add extra functionality to your site that your theme does not supply. Or they can do it better than your theme. Most plugins are free but there are premium ones to purchase. These are good if you want that extra bit of support and functionality.
When adding plug-ins you do not want to install too many as this can reduce the speed of your site. When your site loads it needs to load in all your plug-ins on top of your website which can cause slow load speeds.
In the market place on WordPress, there are a whole plethora of plugs for you to choose from, all doing different things. These can range from the following:
Search Engine Optimization (SEO): These plugins can help increase your search rankings as well as give you tips on producing better content. Yoast SEO is a popular one for this one.
Page Builders: Many themes will come with page builder but some don't. If they don't you may want to install a page builder to help design your site easier.
E-commerce: There are many plugins within the market place that help turn your website from a brochure site to an E-commerce site.
Security: Some plugins add extra security to your site, reducing the chances of it getting hacked by unwanted attention.
Image Editing: Websites are often images heavy. It's important you reduce your image size before uploading them to the site. Some plugins will help you with this.
As you can see, there are many different reasons to use a plugin. Make sure you do your research before installing a plug-in and make sure it's compatible with your website theme. It may be that your theme has recommended plugins that you can install.
WordPress Theme and Plugin Detectors
Scanwp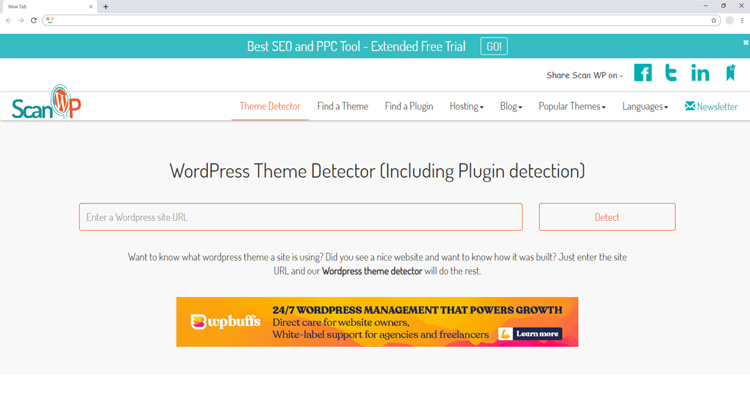 Scanwp is easy to use and most importantly free. You can scan any site on the web and within a few seconds, it will give you all the details of that site. The information it will provide includes their hosting provider, the theme they are using for their website, any plugins and additional sites that are using their theme that you may be interested in.
When on their website you can choose to search directly for a theme or for a plugin depending on what you are most interested in. Othe
Learn more about Scanwp
WP Theme Detector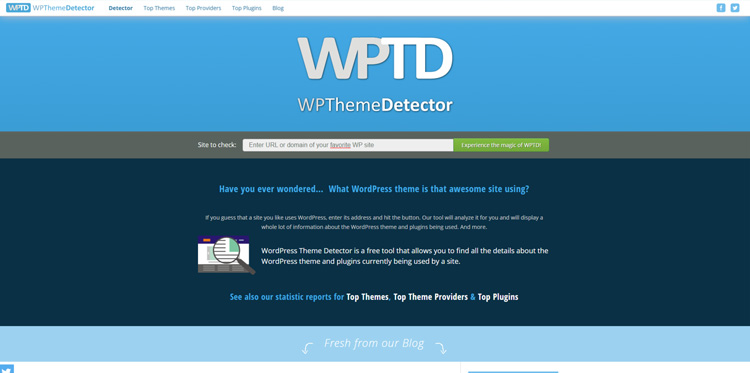 As the name suggests, the Wp Theme Detector can be used to detect a theme a website is using. When scanning the theme, it will let you know what version that company is using. It will also show the popularity of that theme as well as a link to purchase it.
As well as detecting the theme, WP Theme Detector will also scan for the plugins being used and any additional information about the site. When they detect the plugins that are being used, a link is provided to purchase those plugins so that you know where to source them from should you want to use them on your WordPress site.
Learn more about WP Theme Detector
What WordPress Theme Is That?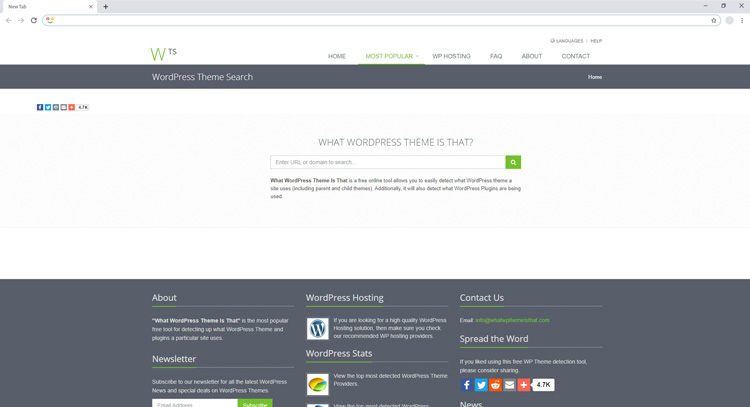 Another website that uses its name to describe what it does. It's free to use and will list the parent and child theme that the website is using. On top of that, when scanning the site it will list all the plugins that are being used. The way it presents the information is easy to follow and it provides links to the themes and plugins website. If the website is not a WordPress website, it will display this information after searching the site.
Learn more about What WordPress Theme Is That?
WordPress Plugin Checker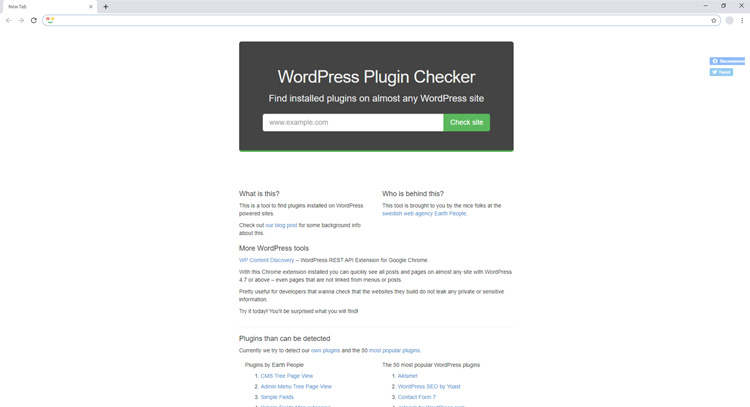 WordPress Plugin Checker is solely designed to help you search for the plugins that are being used on your site. As with all the others, it's free and easy to use. It can scan within a minute or two of you putting the website address in. It's not as fancy as the others above but it gets the job done in a clean and easy way.
Learn more about WordPress Plugin Checker
Gochyu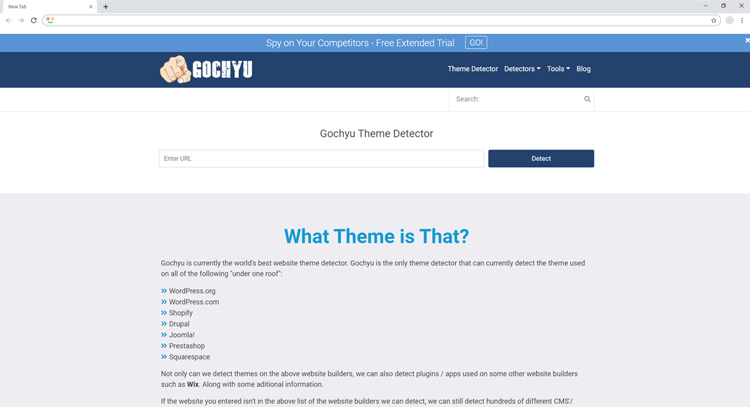 Gochyu is used by many due to the fact you can scan many types of sites. This includes WordPress, Shopify, Joomla, Drupa, Squarespace etc. When scanning a site it will detect the theme being used, the version, author a description of the theme.
Along with this, it will also show you the plugins they are using, the cost of these plugins and a link to where you can get them. If you are interested in the host of that website, this is presented to you as well.
Learn more about Gochyu
How To Discover Plugins Manually?
As mentioned above, the above methods aren't 100% reliable as companies may actively decide to hide this information from you. If they do, some of the scanners may not be able to pick out the plugins or theme that you are interested in.
If this is the case, you could opt to manually search for the theme and plugins they are using. This method can take more time, and still may not be successful if they are good at hiding the information. However, it's the most likely way you will find the information you are after.
Manually Discover Plugins and Theme
Start by loading up their site on Google Chrome
Right-click on their website and select inspect
When the window open, navigate the menus and select sources
Look through the files for Wp-Content / Plugins directory
Here you will see the plugins that are currently active on their site. Remember that not all plugins may be shown here as they may choose to hide them.
Plugins and themes are a great way to add functionality to your website and take it to the next level. As mentioned above when installing plugins, you don't want to install too many as these can slow your site down. This is why so it's important you use them wisely.
If you ever see a site that you like, it's always worth scanning to see if they are using anything that you are not. It may be that what they are doing is easily achieved without you realising. Some things may require a professional to manually code for you, but doing so could be beneficial to your business.
We hope that the websites above help you discover themes or plugins that you may not have been aware of. If you are looking for a new email provider or to sign up for one, you may be interested in these companies. Alternatively, if you are looking to run a new blog take a look at theses website using the Newspaper theme.
What WordPress theme and plugin detector do you use? Have you tried any of the above or is there one we should add to the list? Let us know in the comment box below.