Returning a 404 error does not only affect the user's journey on a website, but it is also seen as a red flag by Google and can lead to a website being penalised on its rankings. The more broken links you have on a site the more detrimental it can be, with users choosing to leave your site instead of exploring it. Below we are going to tell you more about broken links in WordPress and sites that you can use to fix them.
What is a broken link?
A broken link is a link on your site that does not go to the correct page. This commonly happens when a page does not exist anymore, or if there is an error in the URL. Other reason could be that you have migrated your site over to a new domain name, rendering all links to your old site useless, or more formally known as a dead link.
Over time broken links can build up if you haven't been monitoring them, the more you have the more users will end up on your dreaded 404 error page. As mentioned above, Google doesn't look too kindly on this and will penalise your website, causing you to drop down the rankings.
In this guide, we have put together several sites paid and free sites that you can use to check your site and make sure you don't have any 404 errors.
Paid Software
Use SEMRush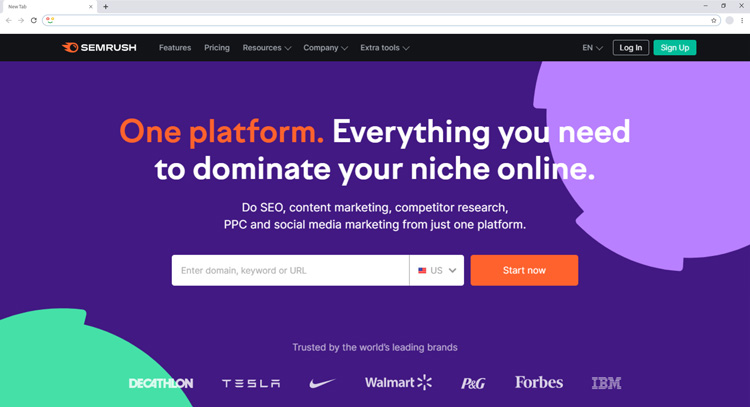 Semrush is an award-winning SEO tool that is used by many major companies. It will not only help you with locating 404 errors on your site, but you can also use it for competitor analysis and link building. They have the largest backlink index out of any SEO tool in the market currently.
In order to use Semrush, you will need to pay for their paid service, although they do have a trial that you can use to try their software out. When logged in you can do a site audit that will check your domain name and present any 404 errors that are currently occurring.
Features:
Track when people are speaking about your company to help with your PR campaign
Create SEO friendly content that will rank highly and increase your position on Googles rankings
Conduct deep link analysis on your own links as well as competitor websites
Export your broken link audit to a CSV file allowing you to open it in excel
Semrush is one of the worlds largest index of websites
50+ tools on SEO, content marketing, competitor research, PPC and social media marketing
Use Ahrefs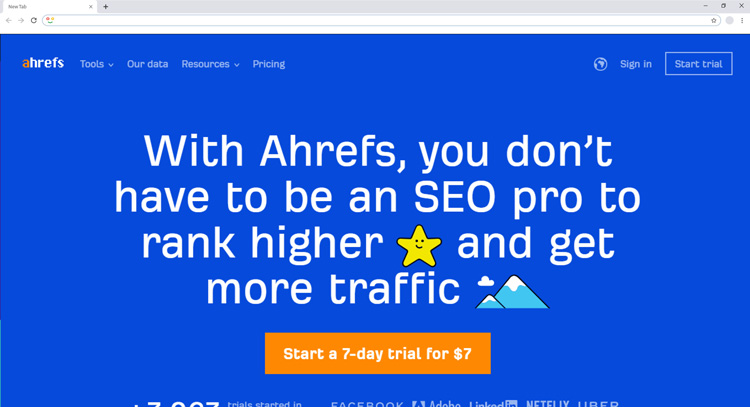 Ahrefs is a well-regarded premium SEO tool that is used by a variety of major companies to help with their marketing needs. As with SEMRUSH, Ahrefs is also a paid tool that requires you to pay monthly in order to use its services. Many users have given Ahrefs positive feedback due to their excellent system and quick customer service team.
When you are signed up to Ahrefs, you will be able to perform a site audit which will present to you all your 404 errors. From here you can export the information and go directly to your site to fix these links. Whilst signed up to Ahrefs you can use their other marketing tools such as their keyword explorer – helping you rank better on Google, site audit – improve your on-page SEO performance, site explorer – an in-depth look at your organic traffic and backlink profile amongst many other marketing tools.
Features:
Discover all your follow and non follow links
Categorize backlinks
An in-depth look into your organic traffic
7 days trial for $7
Use Alexa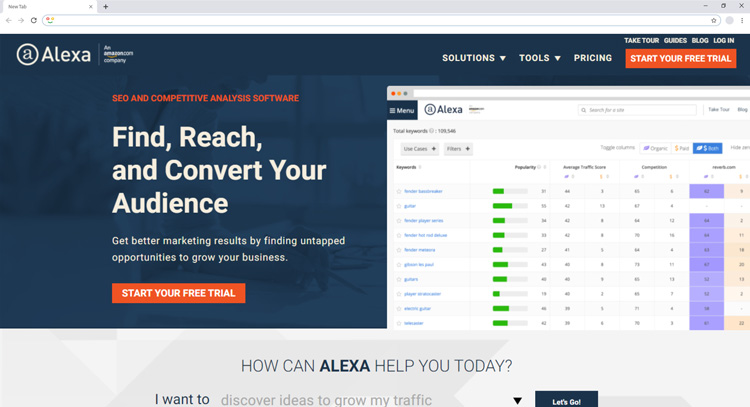 You may not know this but Amazon has its own marketing tool and confusingly enough its called Alexa. This all in one SEO tool is extremely powerful and can help you with growing your traffic, improving your SEO, targeting keys words as well as many other features including how to fix broken links.
Currently, Alexa is offering a free trial for 14 days which unlocks most of its premium features and will give you a good insight into whether Alexa is for you. If you do decide to sign up it will cost you $149 a month but you will certainly get a return of investment if you use this tool correctly.
Feature
Their SEO audits and On-Page SEO checker is very in-depth
You can perform competitor analysis using their software
Keyword difficulty tool to let you know how hard it will be to rank for that keyword
Content research to help you plan your content calendar
14-day free trial available
Free Software
Use Google Search Console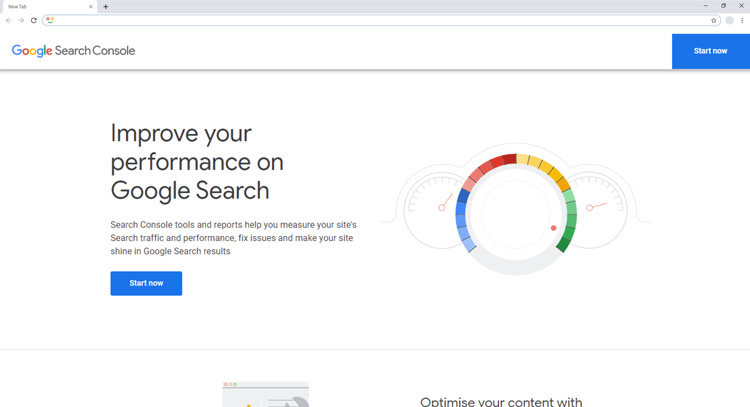 Google Search Console will help improve your performance on Google as well as helping you with your 404 errors. It's free to use and easy to set up, making it an ideal option for fixing your websites broken links.
To check your links, sign up to Google Search Console, add in your website's information, click the coverage button on the left-hand menu and then Google will scan your site. If you click on the errors or excluded tabs here you will see the different 404 errors on your site. There is an option to download a CSV should you want to export the errors into a spreadsheet.
Features
Google Search Console is free to use and easy to setup
Export errors into a spreadsheet which you can then access using Google docs or Microsoft Excel
Improve the way Google sees your website and it's rankings
Google has multiple other tools that you can take advantage of such as Google Analytics, Google My Business and Adsense amongst other tools
Use Sitechecker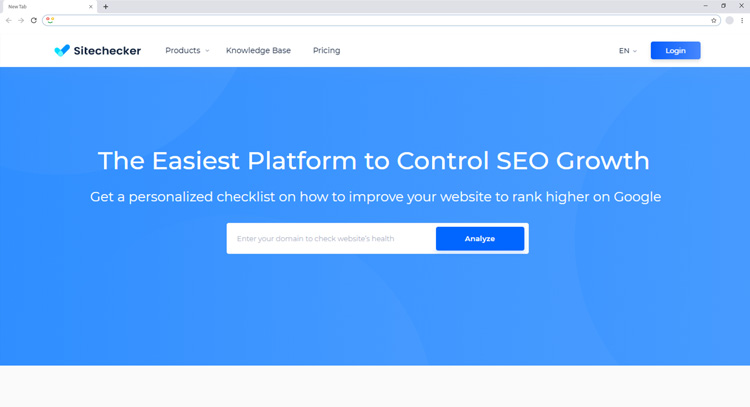 Sitechecker offers an all in one SEO platform to help grow your online business. Part of their offering which is currently free to use is their website crawler. By entering in your domain name they will scan your site and let you know of any SEO issues that occur, this includes any broken links. If your site is larger in size, they may restrict how much you are able to see and require you to pay a monthly fee to access the information.
Features
Their link checker will show you 100 pages for free
They will provide an SEO audit of an exact page for free as well as your whole site if required
Errors such as meta tags and thin pages are located which you can then make changes to, to improve your website's performance
A whole plethora of features is unlocked when paying for their premium version. This costs between $19 a month to $69 a month depending on the size of your business
Use W3C Link Checker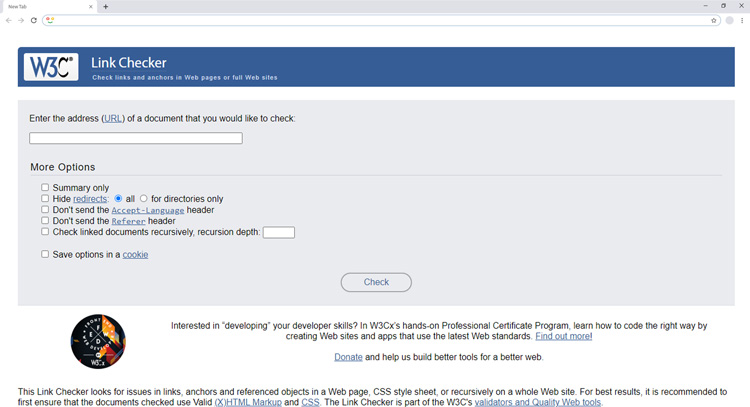 W3C Link Checker is a free tool that you can use to check your broken links on your website. It's not the most presentable tool but is easy to use and allows you to filter your results. When performing a check on your site it will scan all your pages and present to you a list of issues that you can change on your site. When searching your site it may present other issues that it comes across that may not be to do with a broken link. If you want to you can download this link checker and install it on your system
Features
Free to use
You can download the link checker and install it on your system
Filter your results to an extent
Check links and anchors in web pages or full websites
Improving your website performance should be part of every business marketing strategy. The tools above will not only help with your broken links but also help with other areas of your business such as improving website traffic, link building and improving your search ranking. Your 404 errors are something you can easily fix yourself and apply as soon as your report is returned to you.
We hope this guide on fixing broken links on your website will help you fix some errors on your site. If you are interested in adding a live chat software to your site, our guide on live Chat Software for WordPress Websites will help you. Alternatively, if you are considering a new host then take a look at our ten things to consider when choosing a WordPress Host.
What software do you opt for when you need to check and fix broken links? Have you used any of the companies above? Do you opt for a free version or do you prefer to use the paid tools? Let us know in the comment box below, our readers would love to hear about your experiences and which ones you would recommend.