As an eCommerce site or a business that regularly engages with customers, you should be considering using live chat software on your website. A live chat will allow you to answer any questions a customer may have, instantly on your site, improving their customer service experience. Through better customer service you will benefit in a variety of areas, from an increase in sales to better rapports with your customers and a reduction in demand on your phone lines for simply answered questions. When it comes to choosing a live chat software for WordPress websites there are a variety of things to consider:
How easy is it to set up
What are the monthly costs
If someone is not available on the live chat what happens
Does it work on mobile devices
Do you have a support contract should something go wrong
Does it allow file transfer
What security measures are in place
Does it work on WordPress
Can it track visitors
To help you make your search for a live chat software that little bit easier, we have put together a guide of nine different providers for you to consider when looking for a live chat software on your website. Each provider offers their own benefits so make sure you do you research on them before signing up. Most will offer a free trial for you to use before deciding, alternatively, some are free to use but require you to upgrade your subscription for additional features.
Send In Blue Live Chat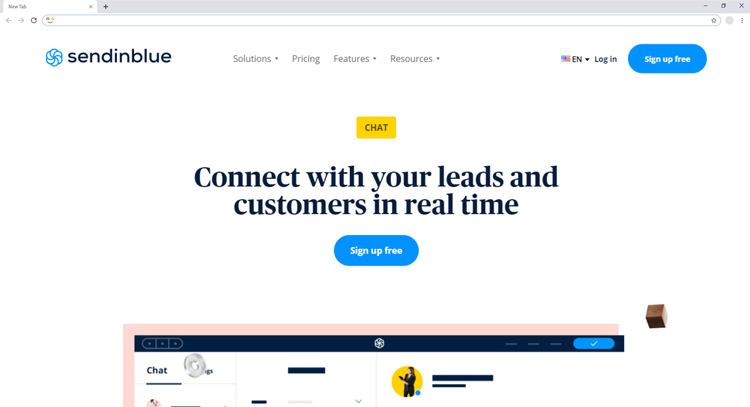 First in our list of live chat software for WordPress websites is Send in Blue. Send In Blue offer a whole range of marketing options that will help you grow your online presence. One section of their offerings is their live chat feature. Not only is it easy to set up, but you can personalise it to your own branding. By using their system you will be able to track what pages your customers are landing on and speak to them live through their backend whenever a customer has a question. You can have multiple team members online at the same time with their own profile so that customers know who they are talking to, whilst engaging on the live chat. No matter the size of your business Send in Blue should be able to help you grow and improve your sales on your website.
Learn More About Send In Blue
Zendesk Live Chat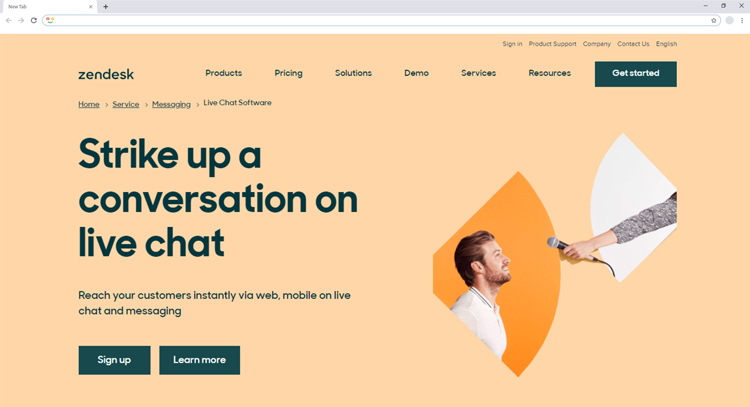 Instantly engage with your customers using Zendesk live chat option. With Zendesk you can install a WordPress plugin and be set up and ready to go within minutes. A major feature that Zendesk offers is their automation options. What this means is you can set up your chat box to answer frequently asked questions before going to a live salesperson. If you would like to see their system live, you can request a demo and one of their sales representatives will get in touch to help you. Other features that are included with your Zendesk live chat include custom branding, rich message types include GIF's, forms and emojis, amongst many other features.
Learn More About Zendesk Chat
Pure Chat Live Chat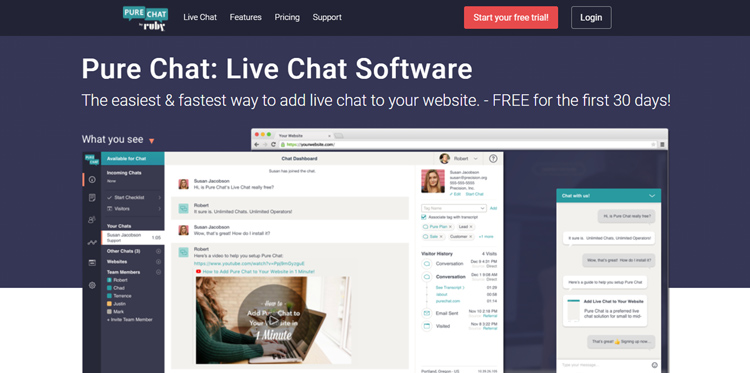 If you are looking to try out a live chat system, Pure Chat are currently offering a 30-day free trial. Pure Chat is one of the easiest live chat systems out there and is used by many reputable companies. It integrates with many of your much-used marketing tools like Google Analytics, Mail Chimp, Zoho, among others. They have two different pricing strategies which are growth and pro. Growth covers most of the major features, although you cannot remove the Pure Chat branding with this option. It works with most website systems and customers can leave you direct messages using the chatbox should you not have a representative available at the time.
Learn More About Pure Chat
Drift Live Chat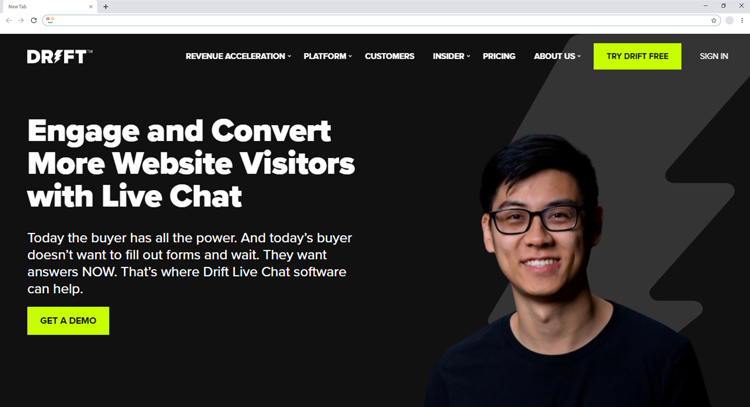 Drift is a well-known company that offers a very reliable live chat solution that comes with many features. Not only will you be able to create multiple mailboxes for different conversations, but you will also receive buyers feedback, see who is on your site at any moment and take advantage of their saved replies feature. There are so many ways in which Drift will take your live chat to another level and it integrates with many major suppliers that you use such as Slack, Calendars and Google Analytics.
Learn More About Drift Live Chat
Olark Live Chat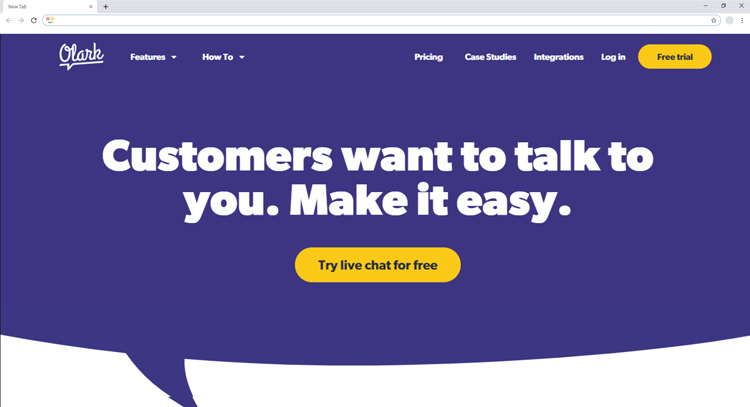 Another live chat software for WordPress websites is Olark. Customize your live chat to your branding, save time with automation, use analytics to analyse your chats or create custom chat box forms, these are just a few of the great features Olark Live chat offers. Olark integrates with most software easily including WordPress and offers a free trial should you want to give it a go. Their support team is easy to get hold of and if you read their case studies you will notice many businesses have had some great success by using Olark. With an easy pricing strategy, you know exactly what you get when paying for their live chat system.
Learn More About Olark Live Chat
Live Chat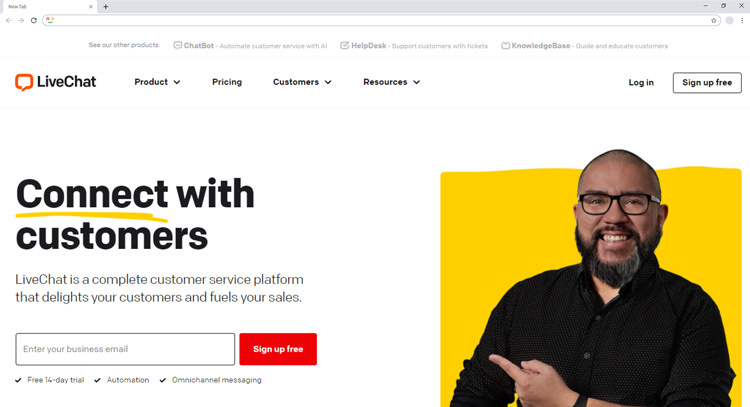 As stated on their website, Live chat is trusted by 31,000+ companies worldwide including the likes of Mcdonalds, Adobe, Ikea and Paypal. By using Live Chat you will be able to provide 24/7 support, engage with your customers using custom greetings, get live analytics and brand your chat box to your own branding. They have a desktop app which you and your team can download to access the system and communicate with your customers instantly. Conversations are encrypted with the highest security and stored on their servers after the conversation in case you need to look back through one. With over 170+ integrations live chat works with most of your major applications.
Learn More About Live Chat
Fresh Chat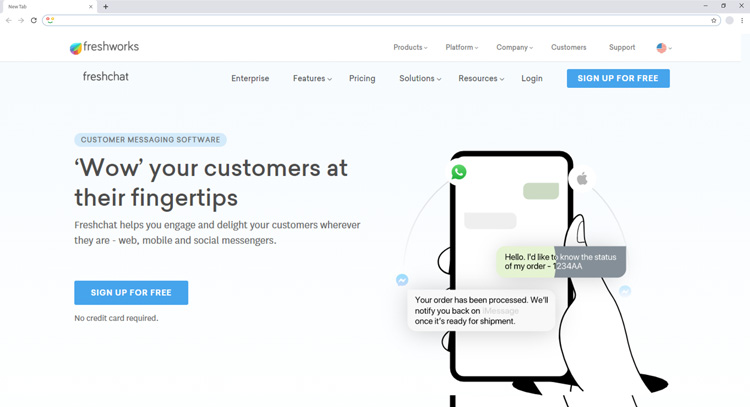 Fresh Chat is an all in one customer messaging solution. Not only will you have access to their live chat features but you'll also benefit from having a messaging support system set up for you. This includes channels like Messenger, WhatsApp and many other ways of communication. If customer service is at the forefront of your business then Fresh Chat has it all covered. The best way to try it out is to give their 21-day free trial a go. Whether is customer support, customer engagement or lead generation their tool is designed to help you in all areas.
Learn More About Fresh Chat
Smartsupp Live Chat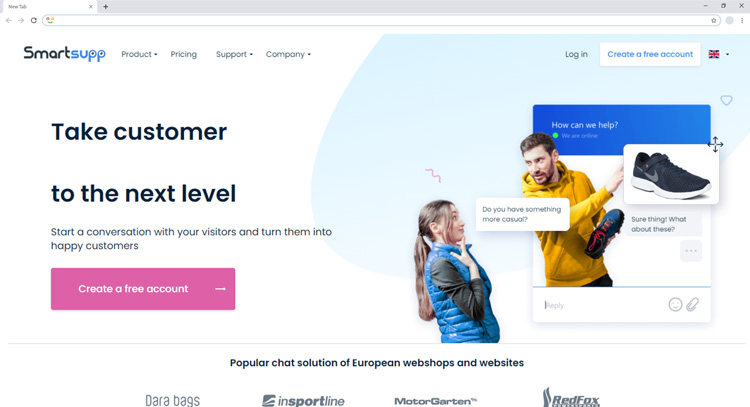 Many brands have used Smartsupp and seen an increase in their sales, customer loyalty and visitor engagement. Through Smartsupp you are able to share files will customers. You can also use emojis to make it more personal or automate responses if you are not available. Pricing is extremely affordable with a free option being available should you only need a few of the features available. They have a whole support section should you have any questions. Alternatively, you can get directly in touch should you have any further questions to ask.
Learn More About Smartsupp
Tidio Live Chat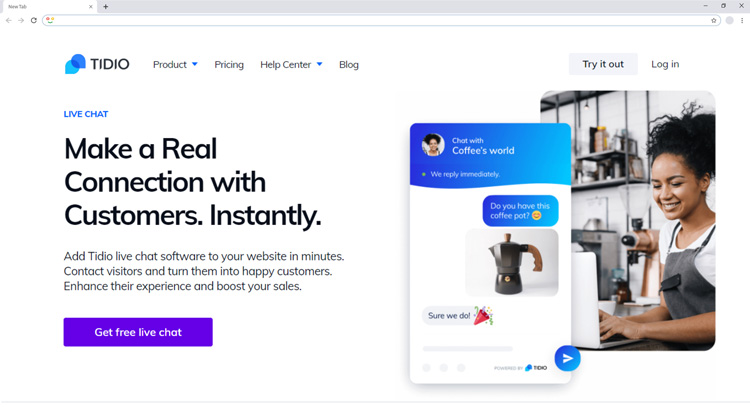 Last but not least on our list of live chat software for WordPress websites is Tidio. Tidio is another live chat software that has some great features as well as a good customer service team. They have a free option that allows you to have three users should you want to try their system out. If you require more you can sign up for one of their three different packages. You can downgrade or upgrade at any time. With Tidio you can track who is on your site at any given time and reach out to see if they need support.
You can customize the live chat to match your branding. You can also easily identify the pages your customers are on when communicating with them. To access the system you can use their mobile app, desktop application or use a website browser. Over 300,000+ websites currently use Tidio to increase their customer engagement on their website.
Learn More About Tidio Live Chat
Depending on your business requirements will depend on which live chat software for WordPress websites you opt for. Each company above offers its own benefits, depending on your business size and how much you want to spend. Most will offer a free trial should you want to give them a go and see how they work.
We hope this article has given you a good overview of companies you can use for your live chat solution. Looking into a new WordPress host? You may like our article on ten things to consider when choosing a WordPress host and Ten websites using the Avada Theme to inspire you.
Which live chat software for WordPress websites do you currently use? Are you looking to use one of the above and why? Have we missed a software that you would like to recommend to our readers? Let us know in the comment box below.