If you are thinking of setting up your own online magazine or blog then WordPress is the way to go. WordPress is an extremely powerful interface that allows you to create virtually anything on the web – it is said there are over 75 million websites using WordPress.
Part of building a website on WordPress involves you choosing a theme which you will use to create your site. When it comes to choosing a theme there are many things to think about – is it regularly updated? How reliable is the theme? Is your theme responsive? Are you going to opt for a free theme or use a premium? The list goes on.
A free theme can be tempting if you are just starting out, however, if you plan to take this seriously and want to grow, then it may be worth skipping straight to a premium theme. Premium themes aren't extremely expensive and come with many premium features that will help you put together an online magazine that will not only have user engaged, but returning and recommending your site to others.
Below we have put together eight different premium WordPress themes that you can use when starting up an online magazine or blog. 
Newspaper Theme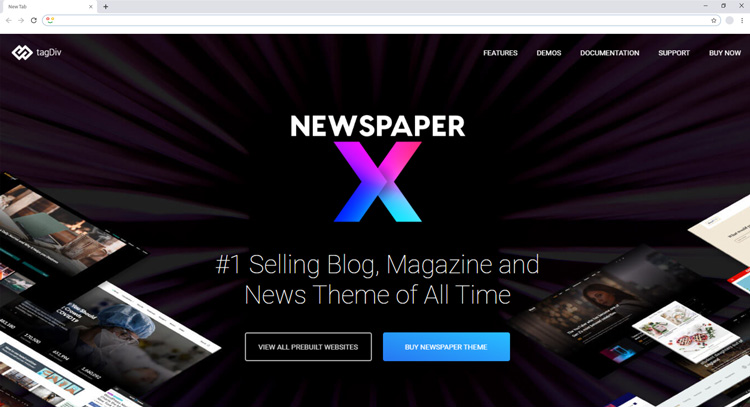 Newspaper is a powerful WordPress theme that will allow you to design your own online magazine without any coding knowledge. With a basic understanding of WordPress, you can easily install it and use one of its many templates to put together a unique-looking online magazine that will have users engaged. The newspaper theme is also multipurpose meaning you can create pages that are dynamic and sell your services, as well as blog-styled posts.
Key Features
SEO optimized and connects to Google with ease
The theme is regularly updated with new features
Designed with speed in mind
39 free pro pre-build websites for you to adapt
Top-rated news theme within the ThemeForest marketplace
Learn more about Newspaper
Divi Theme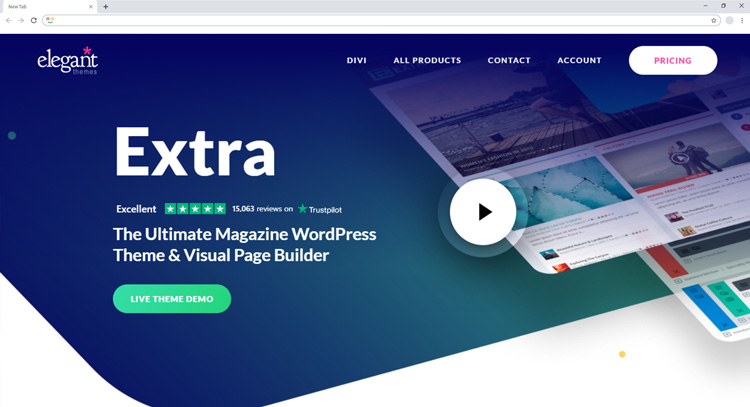 Divi is one of the most popular WordPress themes on the market. The reason being it is extremely versatile, allowing you to create almost anything without any coding knowledge. It comes with a whole plethora of pre-built designs that you can use as well as many premium plug-ins to make running a website that little bit easier. By using the Divi theme you can be sure your website is fully responsive and eCommerce ready should you want to develop your online magazine as your readership grows. 
Key Features
Fully responsive designs supporting all mobile and portable devices
24/7 premium support
Post & page builder requiring no coding knowledge
Completely customizable, create anything you would like
Countless amount of demo for you to edit
Learn more about Divi
Bridge Theme
The Bridge theme is another popular theme that is listed within the theme forest market place. Since launching in 2014 it has grown in popularity each year, accumulating over 159,000 downloads and fast becoming one of the most popular WordPress themes. Currently, they list over 540 demos that you can use to create your own magazine or blog. Not all these demos or blog layouts but by using their theme you take bits of each demo to create your own unique feel. The bridge theme requires limited knowledge of coding and uses the Elementor plugin as its drag and drop builder. 
Key Features
Multifunctional allowing for multiple designs
Fully optimized for search engine optimization
Step by step video tutorials to support you when designing your site
Fully compatible with essential plugins
The theme is regularly updated
Learn more about Bridge
Public Opinion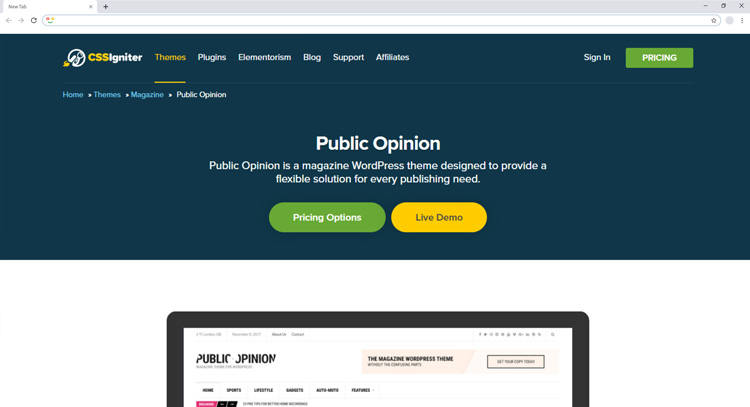 Public Opinion is a theme that is specifically designed to help users build an online blog or magazine. It is fully mobile optimized allowing you to create a site that looks beautiful, no matter the device used. Based on the Ignition framework, you can customize your site adding your own unique touch and feel to it. Whether you are looking for a sticky menu, or a custom site width Public opinion can support it all.
Key Features
24-hour premium support
Demo sites included making your designing process that bit easier
Built with speed in mind
Fully optimized for search engine optimization
Mobile optimized designs
Learn more about Public Opinion
News Pro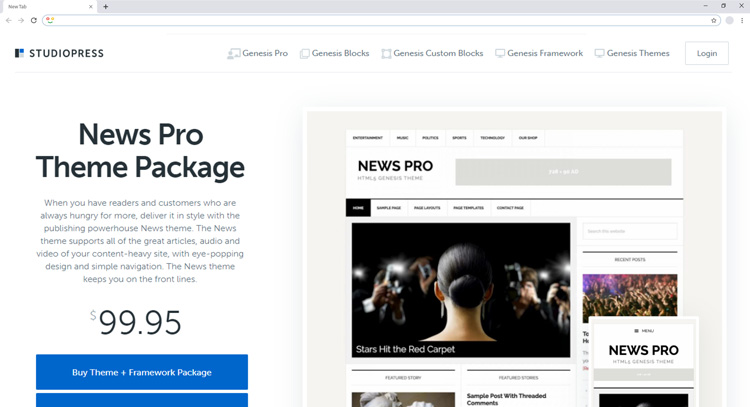 News Pro is a powerful theme that allows you to customize areas of your website such as your colour scheme, content areas, headers, setting amongst many other things. As with many themes, it is mobile responsive and works alongside WooCommerce allowing you to create an online store to compliment your online magazine. With News Pro, you can have your online magazine set up in minutes with just a few clicks of a button. If you need any support they have a team available for you to get in touch with to answer your questions.
Key Features
Fully mobile responsive with speed in mind
Works alongside WooCommerce allowing you to set up your own eCommerce store
Customizable headers
Easy to install and set up
Supports audio, video and content-heavy posts
Learn more about News Pro
Avada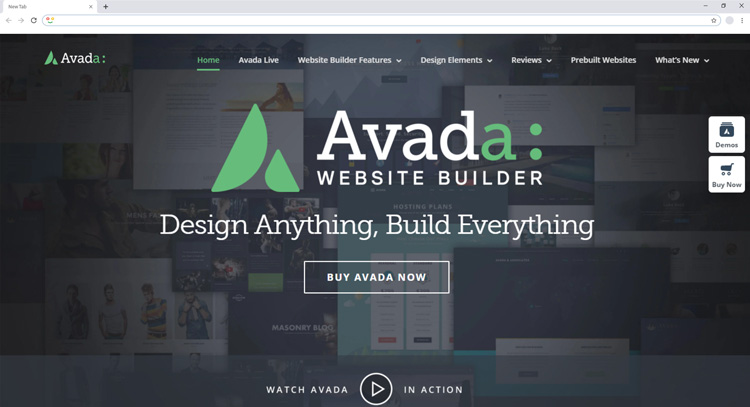 Avada is one of the most beautifully designed WordPress themes and has the end-user in mind. It is regularly updated with new features allowing you to continuously update your website. This means you can make it look as premium as you would like it to be. Each part of your Avada website can be fully customized using its own drag and drop builder meaning no coding knowledge is required. Avada is used by many due to its wide range of premium feature. Although it doesn't specialise in being a magazine/newspaper theme, this doesn't mean it won't be extremely successful when using it for your online magazine. Under their demos section, you will see a large range of example showcasing their theme being used as a blog. 
Key Features
81 prebuilt website that you can customize for your site
Multifunctional theme allowing for many designs to be achieved
No coding knowledge required – it comes with their own drag and drop builder
Updated regularly with new feature to be added to your website
The majority of things can be customized with a click of a button
Learn more about Avada
Daily Post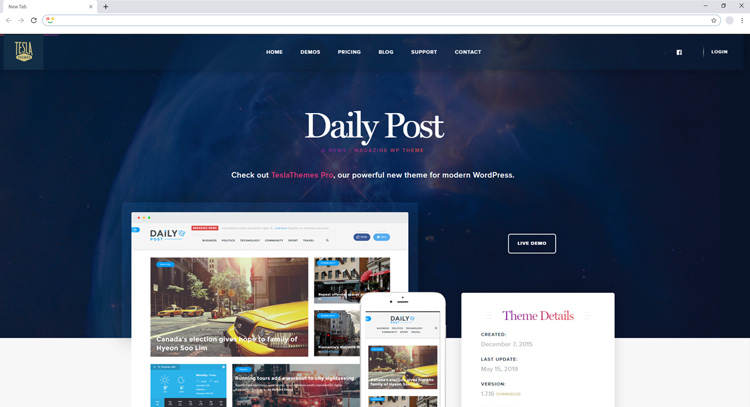 The daily post is a theme that has a plethora of features that will make your online magazine stand out from the rest. With no coding skills required, you can customize each section of your site to look appealing and attractive to your readers. The theme itself is updated regularly adding new features and has been optimised for SEO and load speed. It is easy to set up and come with many built-in features to make your site more engaging.
Key Features
Easy to use with a modern and clean design
Subscriber boxes can be added to collect email addresses for your newsletter
Customizable categories
Use your own fonts and allow users to comment on your posts
Dedicated author pages to show off all your writers
Learn more about Daily Post
Newsmag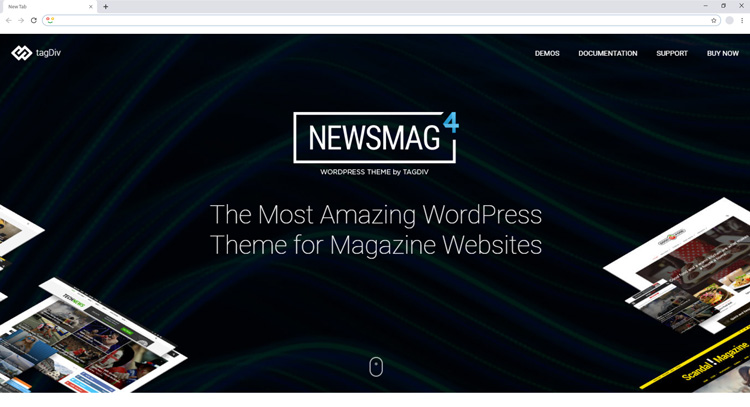 Newsmag uses similar features to the Newspaper theme and is created by the same makers – Tagdiv. When using the Newsmag theme it comes with plenty of premium features, allowing you to create a unique blog. The page builder is very simple to use and lets you customize pretty much anything on the page. 
The Newsmag also comes with and is compatible with plenty of the premium plugins that you see within the WordPress marketplace. With Newsmag your limitation is your imagination. If you can think of it, then the chances are you will be able to create it using this theme.
Key Features
Comes with a drag and drop builder that is easy to use
No coding knowledge required to set up your website
Free lifetime updates included within this theme
Designed specifically for magazines and blogs
Fully mobile optimized
Learn more about Newsmag
Whether you are looking to start up your own online magazine or to create a blog, we hope you achieve the desired effect using one of the eight premium WordPress themes above. Each theme has its own pro's and con's so it's important that you do your research on each theme before deciding which one is best for you. As a collective, they all can be set up easily without any coding knowledge – although some of the themes are better at this than others. 
Hopefully one of the above WordPress themes will help you with designing your own online magazine. If you want to use the Avada theme then these live examples demonstrate what you can do with it. Alternatively, our article on 10 examples of a website using the Newspaper theme may also help. 
Are you planning on creating your own online magazine or blog? Will you be using one of the themes from the above selection? Let us know in the comment box below.