Your email communication and therefore email provider is one of the most important things to consider when running a business. This is due to the fact that most customers will opt to call you or email you when they have any questions.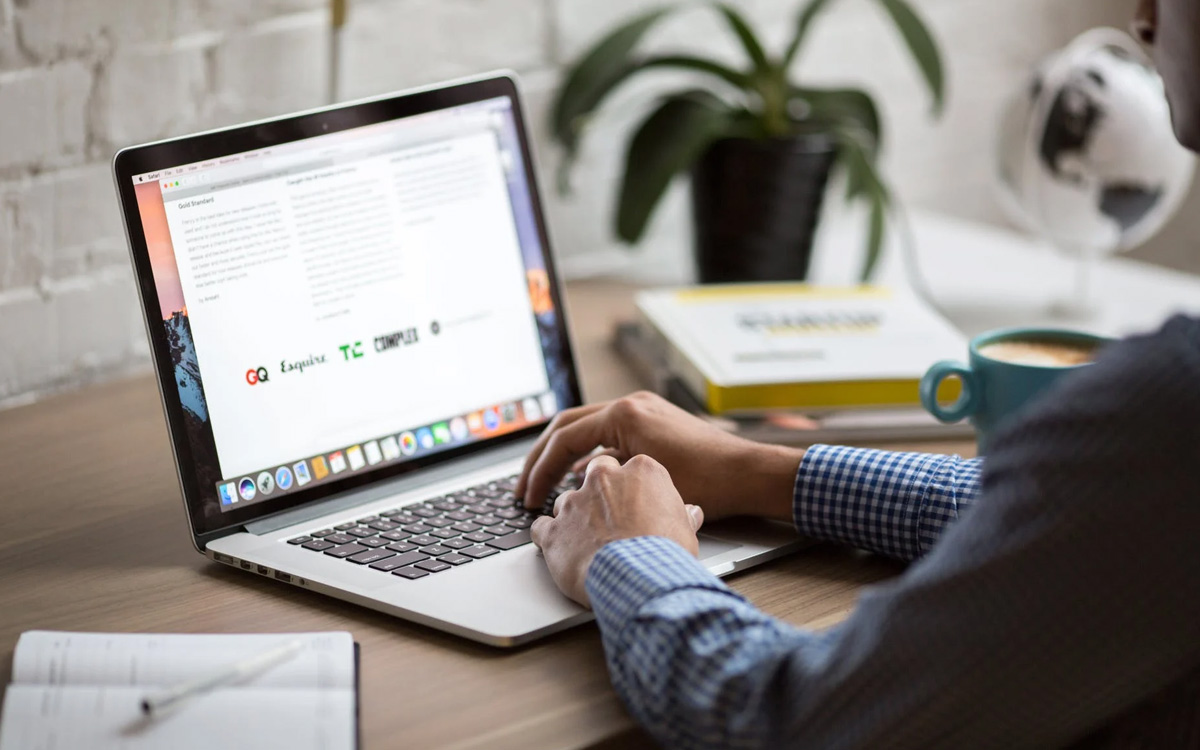 When choosing your email provider there are a variety of things you want to think about. These can include, the monthly costs, if you have your own custom email, what happens are you grow and how secure they are. Some providers will also offer additional collaboration tools on top of your email subscription as an added bonus. Microsoft will include their office programs and Google include their Gsuite for example (dependant on what subscription you opt for)
When looking into which email system is right for you, make sure you do your research and speak to one of their sales reps if you have any questions. Once you have signed up to an email provider, moving can be a pain so it's important to find the right one for you straight away.
Below we have listed eight email providers that you may want to consider for your email.
Gsuite by Google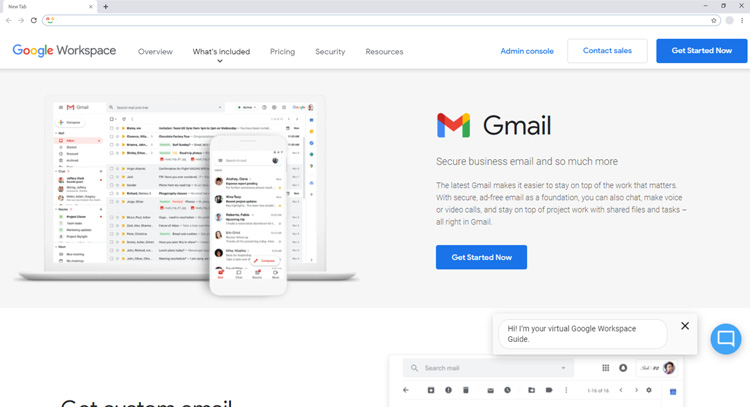 Gmail is one of the best email providers in the market at the moment. Since its launch in 2004, it's becoming more popular due to the many benefits it brings. Not only does Google include its email software, but it also includes a variety of other features within its Google Suite. By using Google you will be able to take advantage of their video conferencing software, shared files, and document-producing apps like Google Docs and Google Spreadsheets amongst other things.
Currently, Google is offering a free 14-day trial if you would like to try out their email service. After you can choose to upgrade to a variety of plans which is decided by the functionality you require from them. Once you have an account you can upgrade and downgrade depending on what you use and don't use.
Custom emails for your company example@yourcompany.co.uk
Smart Suggestions for simple tasks
You can use your email account with other applications like Outlook
99.9% guaranteed uptime, 0% planned downtime
Caters for all business sizes
Learn more about Google Mail
Outlook by Microsoft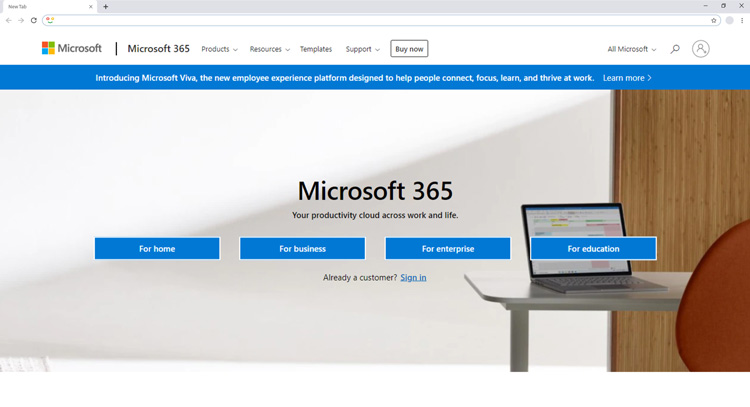 Microsoft is another company that has been supplying many large businesses with email services for a long time. Their business-standard package includes multiple collaboration tools that your whole business can take advantage of, these include Word, Powerpoint, Excel as well as one drive, Teams and SharePoint. If you need support with setting up or after you have set up, they have a 24/7 phone and web support team there to help you.
When purchasing a subscription with Outlook, you will notice there are several options for you to choose from. Depending on your business size or requirements the package which is correct for you will vary. If you are not sure which one is right for you, speak to their sales team as they will be able to help.
Multiple collaborative tools included with the business standard package
OneDrive can store 1 TB of data for you in the cloud
Email Hosting with 50 GB mailbox and customer emails for your company
One license covers 5 pc users
Caters for all business sizes
Learn more about Microsoft Outlook
Zoho Mail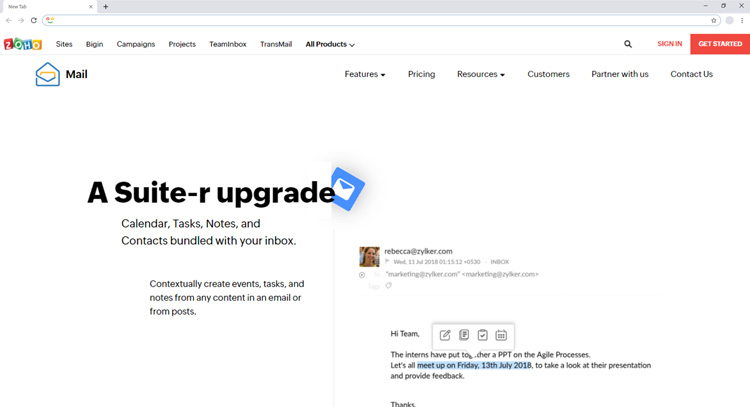 Zoho Mail has a variety of email plans available that will suit all business needs. This includes a free plan (with 5Gb storage) should you be starting up. Their professional plan is particularly useful as this includes a variety of additional features that will be useful for many businesses. Also known for producing multiple other systems to support your business such as the finance plus and CRM system, Zoho has many positive reviews and continue to develop their offering.
You are able to send attachments as big as 500Mb
Zoho WorkDRive is included with the more premium subscription
Free email accounts available
Office Suites is included with a premium subscription
Large Storage per user available
Caters for all business sizes
Learn more about Zoho Mail
Yahoo Mail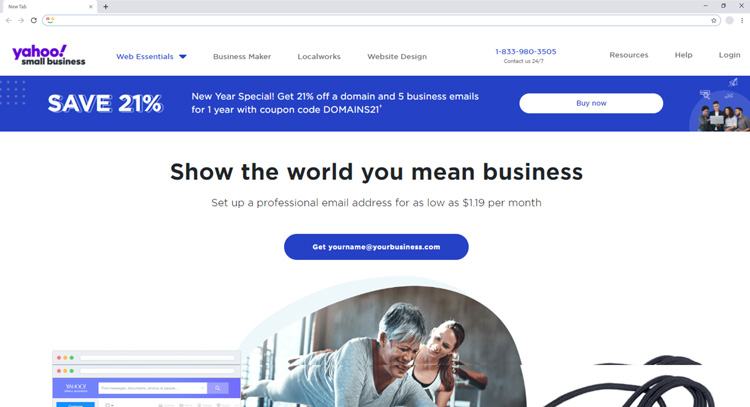 Aimed at startups or smaller businesses, Yahoo mail is a great option to consider when looking into your email provider. They pride themselves on being extremely affordable and easy to set up, having you up and running in minutes. Dependant on your business size there are a whole variety of plans you can sign up for depending on your requirements but to start with you can go for their 1 mailbox plan. As standard with all business emails addresses, it's easy for you to customise your email address such as example@yourdomain.co.uk.
Great for small businesses and start-ups
Affordable and allows you to upgrade and downgrade when you need to
1 TB of storage included with your email account
Continuing to develop new services with WordPress Hosting available
Learn more about Yahoo Mail
Protonmail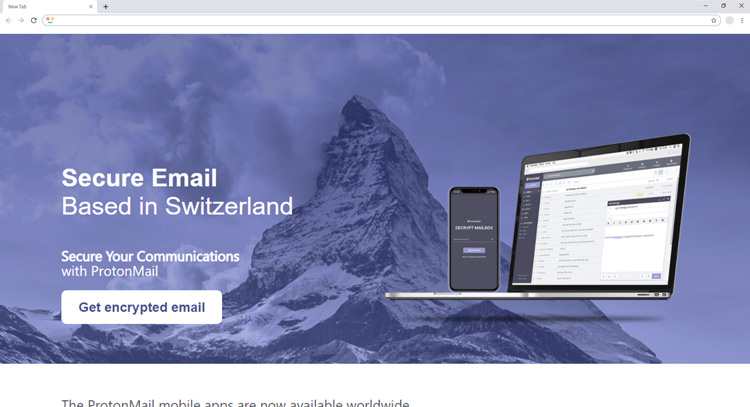 PrononMail offer email accounts for both individuals and businesses. Each email account is extremely secure with the most updated security measures covered by Swiss law. With over 30 million users in 197 countries and more than 10,000 teams using ProtonMail for business, Proton mail is slowly growing to be one of the top email providers out there. Pricing wise it's very competitive.
Able to use your account with other apps like Apple Mail or Outlook
Powerful advance filter software as well as spam protection
Easy to use admin panel
Personalised support team to help you get set up and support you with and issues you may have
Learn more about ProtonMail
Mail.com
Mail.com provides free email accounts as well as premium ones should you need to upgrade. You can easily add your own customized domain name as well as store files with their online storage and use it will mobile email apps. It's not the most advanced system and is mostly used by individuals and small businesses. You can use your email account with other apps such as Google Mail or Outlook.
Free to use but you can upgrade with additional features
Up to 65 GB of email storage
You are able to send attachments as big as 30 Mb
Easy to set up with a brilliant customer support team
Learn more about mail.com
AOL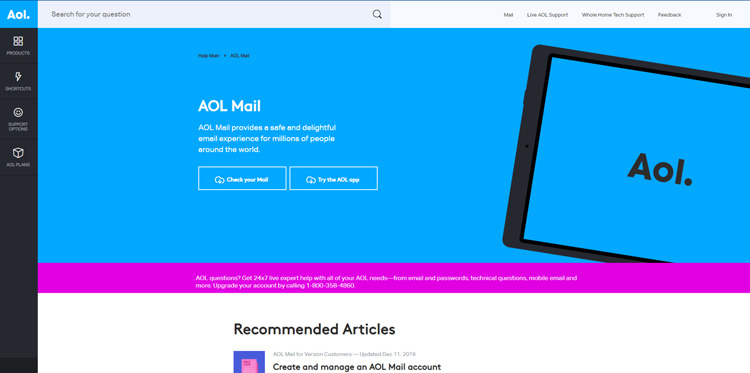 An email provider that isn't heard of as much but is slowly developing to keep up with the ever-demanding market is AOL. AOL currently doesn't allow you to use your own customized ending to your email account, making it more suited to an individual running a small business. It is free to use which is great for when you are just starting up and allows you unlimited storage
Unlimited Storage
No custom domain at this point
Useful for individuals or very small businesses
Virus protection on outgoing and incoming emails
Learn more about AOL
iCloud Mail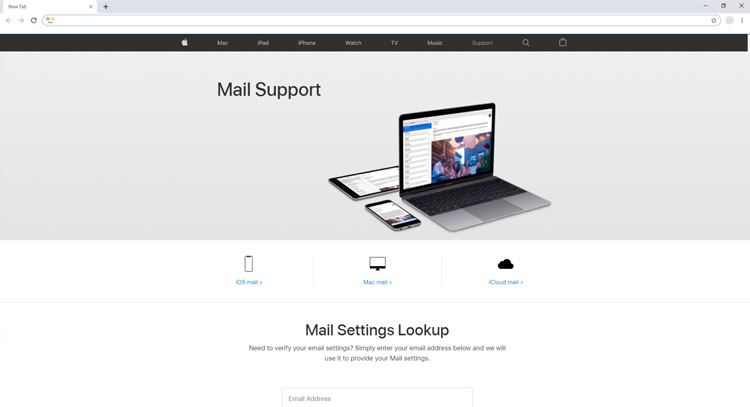 If you are an Apple lover and use many apple devices then iCloud mail will be useful for you. You can sign up for a free account with apple you will receive 5 Gb of free storage to use. This can be used for your emails as well as your photos or files that you need to store. When using Apple everything synchronises seamlessly, meaning your email account can then be used across all devices, including your laptop, mobile and tablet. If you need to upgrade your storage you can but this will cost you an additional monthly fee.
Currently, Apple does not allow you to create your own custom email address with them. This means that if you want to use an apple email address you would have an email like example@icloud.com. As an individual, this may not be a problem for you. You can however use their iCloud application with your business emails should they be hosted elsewhere.
Learn more about iCloud
Overall, each email provider will offer its own unique benefits which is why it's important you do your own research and discover which one is best for you. Once you have chosen a provider, creating and setting up is normally fairly simple but all their support teams will be there to help should you need it.
We hope we have helped breakdown a selection of email providers that you can use. If you are interested in adding a live chat function to your WordPress website you may be interested in these live chat softwares. Alternatively, if you are looking to improve your SEO our tip to improving your SEO may help.
Which email provider do you currently use? Will you be moving your emails to any of the above? Have we missed a company that you think should be included? Let us know in the comment box below.