Contact forms are an integral part of any website. By using a contact form you allow a customer to get in touch with you, without having to leave the website. A major benefit to using a contact form is that you can control the fields that they have to fill out, helping you get the best information off them to help them with their enquiry. And one way to add this to your site is with WordPress contact form plugins…
When choosing which contact form plugin to use, take into account the functionality and how it will help your business. For some, you will just need a form builder that can be used on your contact page. For others, it may be that you would like some additional form building functionality and integration.
Many of the below WordPress contact form plugins come with a drag and drop builder, helping you create a contact form without having to know any knowledge about coding. Most will also include a selection of templates, making creating a contact form that little bit easier.
To help you with choosing a contact form plugin for your website, we have put together 10 for you to discover below. Each has its own benefits so make sure you do your research and use the one that will benefit your website and visitors the most.
Contact Form 7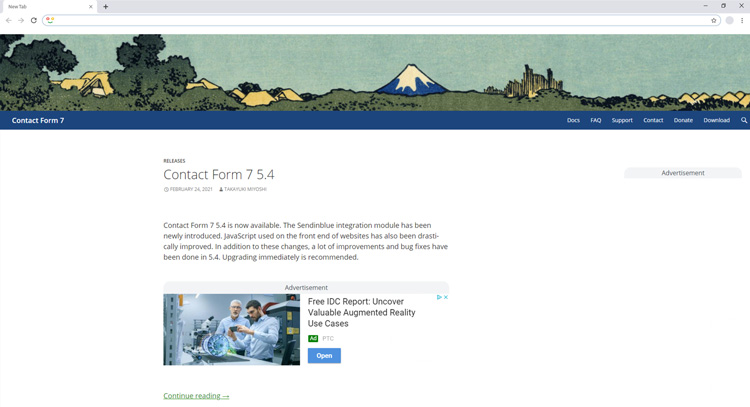 Contact Form 7 is a very popular contact form that is included within many premium themes. The form itself is very easy to use and can be set up within minutes. When it comes to the customization of creating a form, you can add a whole plethora of fields to your forms. These include attachment uploads, comment boxes, URLs and date amongst many other things. It can also be integrated with a range of other software that you may use, including Sendinblue.
Free to use
Trusted by many premium themes
Integrates with other software such as Sendinblue
Learn more about Contact Form 7
Hubspot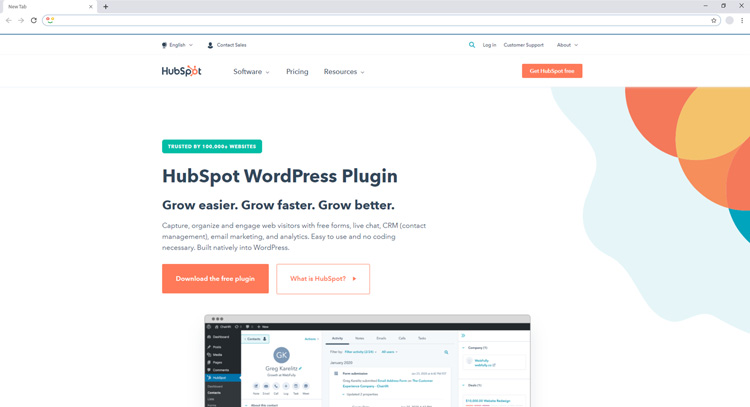 Next on our list of WordPress contact form plugins is Hubspot. Hubspot WordPress Plugin is a powerful tool that integrates many different features together. Along with being able to create a form, you will be able to take advantage of their live chat, CRM (contact management), email marketing, and analytic features.
When it comes to the form building section of this useful plugin, it has everything you need to create a beautifully presented form that will have visitors on your site engaged. Included is a drag and drop builder to help with customizing the look of your form.
Comes with a range of other tools to support your business
Drag and drop form builder included
Easy to customize your forms
Learn more about HubSpot
Gravity Forms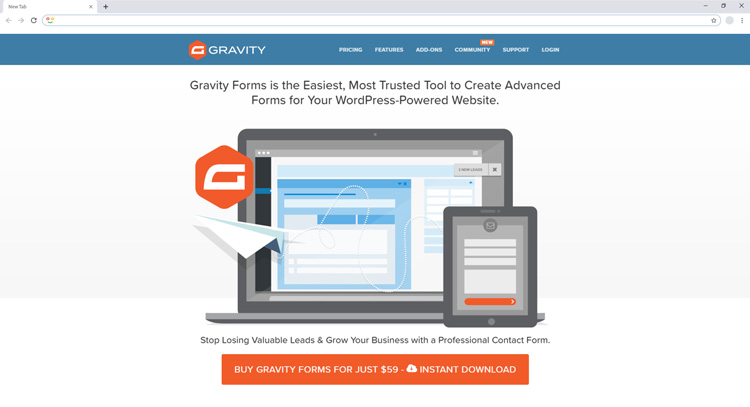 Gravity is a plugin that makes creating a form for your WordPress website easy and can be done within a few clicks. All you need to do is select the field that you require for your form, narrow down any specifics within the setting panel and then embed the form within a page of your WordPress site. If you need to change anything within your form, simply visit the Gravity plugin and make a change to the form already created.
Gravity forms are very easy to set up, it can be done within a few clicks of a button
Templates available to help make your form building easier
Edit the form within the plugin section, this then makes a live change across the site
Learn more about Gravity Forms
Ninja Forms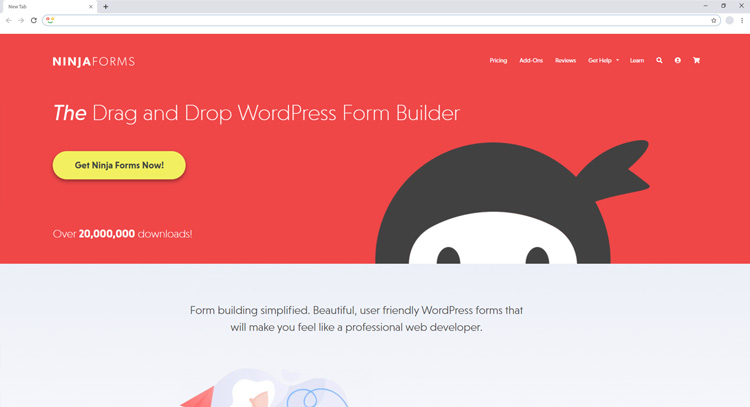 Ninja Forms is a drag and drop form builder that has been designed to make form creating simple. No matter your experience, you will be able to create a form within seconds, customising it to your requirements. If you don't have many requirements you could opt to use one of their many pre-made templates. With Ninja Forms, you can easily integrate it with other software, like your CRM integration.
Beginner friendly, no coding needed
Create beautiful designs without being a designer
Integrate with your CRM system
Learn more about Ninja Forms
Captain Forms
Form building doesn't just have to be a form, it can be a powerful tool that helps develop your business in many ways. With a good form, you can interact with your customers in a way that other businesses don't.
Captain Forms is a good example of a highly developed contact form that allows you to customize it to your exact needs. With a strong drag and drop builder, many templates and advanced security features, you can be set up within minutes and be protected at the same time.
Choose from a range of form templates
Advanced security to stop you from receiving spam
Drag and drop builder for easy from creation
Learn more about Captain Forms
Jetpack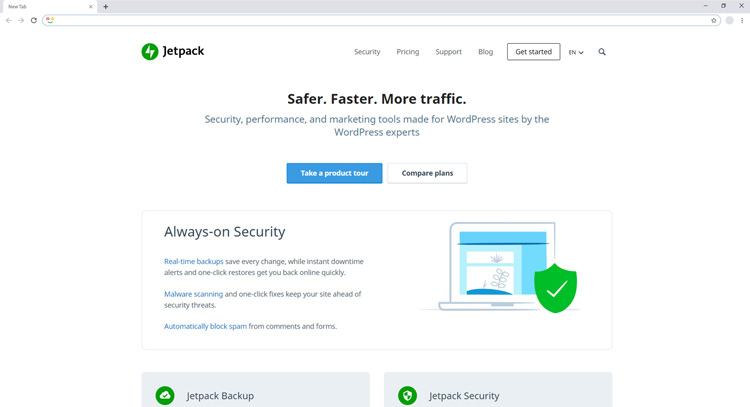 Jetpack is one of the most downloaded plugins in the WordPress market place. This is because it was developed by Automattic, the company that created WordPress.com. This powerful plugin comes with a range of features that makes creating a contact form easy, without having to have any knowledge of code.
Security is at the forefront of what Jetpack do, making this plugin very secure, helping protect your site from any unwanted attention.
Jetpack has very high levels of security as this is something they specialise in.
Highly popular contact form plugin.
No coding knowledge required to create a contact form
Learn more about Jetpack
AR Forms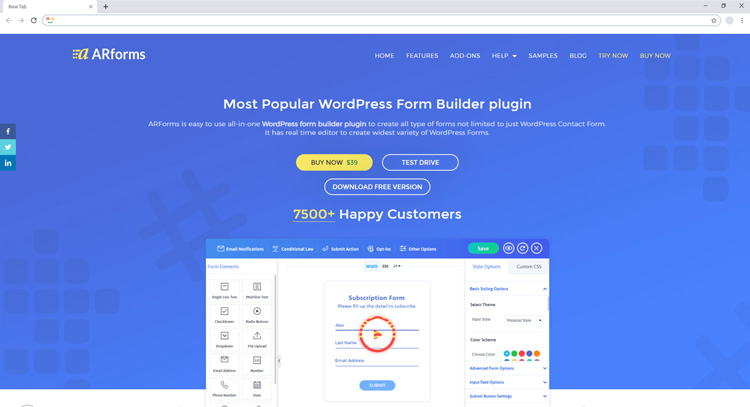 AR Forms have developed a contact form plugin that is versatile in a way that it can be used for many things, not just your contact section. Each form you create is fully responsive, you can analyse the usage, create popups and take advantage of many other features. With four different form submission settings, you can create a unique form that will work perfectly for the people visiting your WordPress website.
Fully responsive contact forms
Many premium features to use throughout your site
Drag and drop builder to help make creating a contact form easier
Learn more about AR Forms
FormCraft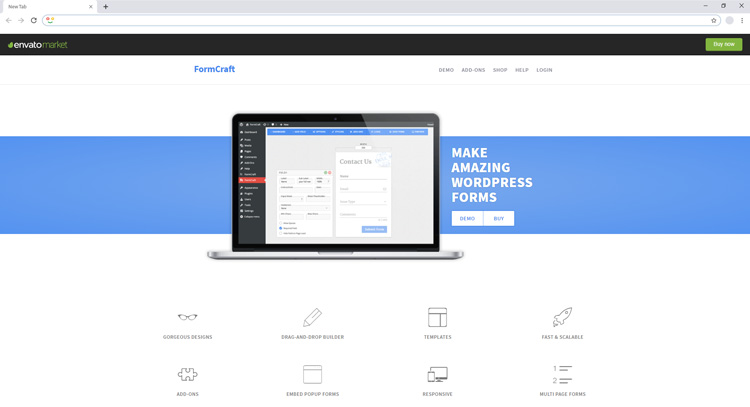 FormCraft isn't your basic contact form, it is a premium form builder that unlocks a lot of potential out of creating a form on your website. Currently being used by over 17,000 customers, they are offering a 10-day money-back guarantee if you don't like this plugin.
Functionality wise, FormCraft comes with its own drag and drop form builder, a whole array of templates, ready for you to take advantage of and it can easily be scaled as your business grows in size. With many other tools that you can use, this form builder has ticked many boxes.
10-day money-back guarantee if you are unhappy with this plugin
Many templates for you to choose from
Easy to scale up as your business grows in size
Learn more about FormCraft
Visual Form Builder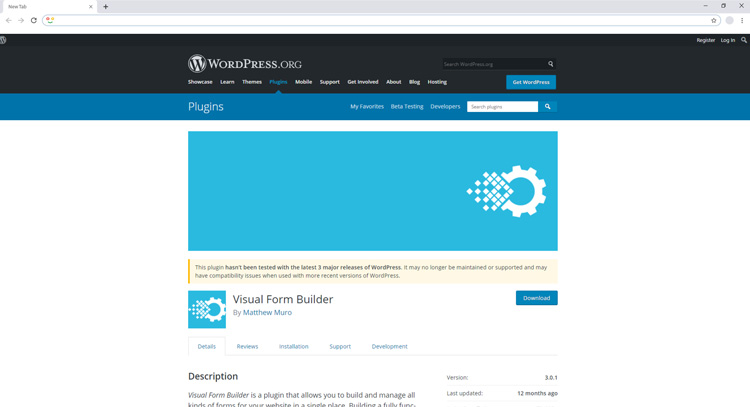 An easy to use form builder, Visual has been put together to make form building straightforward for a beginner user. With a drag and drop functionality, you can easily move your fields around, selecting the most useful ones for you.
Within this plugin, you can use their multiple recipient option, auto-reply and embed and create floating or sliding forms to gain your visitor's attention.
Straightforward for beginners
Drag and drop form builder included
Multiple additional features included to help make your forms with
Learn more about Visual Form Builder
Ninja Kick: WordPress Contact Form Plugin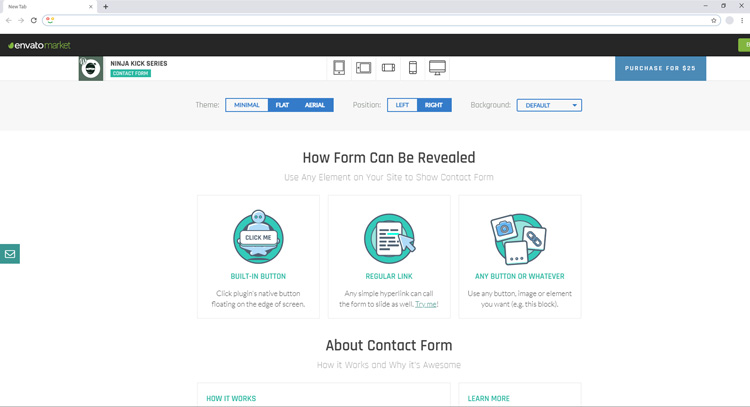 If you are after a responsive design that is easy to use and comes with many templates then Ninka Kick is worth considering. This plugin comes jam-packed with many features to make your contact form that extra bit special. If you are also interested in creating a form for other parts of your site then Ninja Kick will do just that.
Responsive contact form designs
Premium features
Use it on other parts of your site, not just your contact form
Learn more about Ninja Kick
A Contact Form for your website is a great way to allow customers to get in touch with you, without needing to pick up the phone or search for an email address. Most are easy to use and don't require any knowledge of coding, helping beginner WordPress users. Whether you are looking for a simple form to help customers get in touch with you, or you are looking for something more complex to help grow your business, the above contact forms will be ideal for you.
We hope that one of the above contact form plugins is able to help your business. If you are looking for support in other areas of your business, then you may be interested in these top email providers. Alternatively, if you want to know more about what plugins people are using, then this article on plugins will help.
What contact form plugins are you going to use for your WordPress website? Have you used one that you think should be added to the above list? What are your thoughts on the ones above? Let us know in the comment box below.